Main Content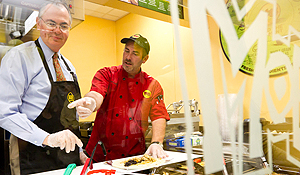 Some of the first changes to result from the Student Dining Commission's work are beginning to be seen on campus.
On Monday, President Nathan Hatch helped open the Moe's location in the Benson Center. He served junior Mo Earley, who was the first official customer.
"The construction of Moe's is yet another wonderful change," said Hamlin Wade, chair of the Student Dining Commission.
Other changes include more healthy options, different meal plans and later hours. Beginning with the fall 2012 semester, the Subway on the Quad will stay open 24 hours a day, 7 days a week. Additionally, a late-night burger or breakfast option will be available in either Shorty's or the Pit from 11 p.m. – 3 a.m. The Pit will operate on a 24-hour schedule during the 10-day period surround spring and fall semester exams.
Read more about all the dining changes »
Recent Posts
May 30, 2020

May 29, 2020

May 29, 2020