Main Content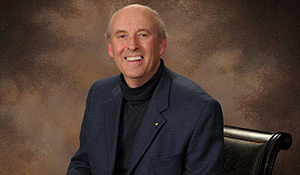 Dan Locklair's PHOENIX for orchestra will be performed by the Winston-Salem Symphony (Robert Moody, Music Director) with special guests the Winston-Salem Symphony Youth Symphony (conducted by Matthew Troy) on Saturday, March 17, at 2 p.m. at Wait Chapel. This will be part of the Concert for Community, presented in celebration of the Symphony's 65th anniversary.
Locklair is composer-in-residence and professor of music at Wake Forest.
This concert is free and open to the public. Although tickets are not required, if you would like to reserve a seat, please visit http://wssymphony.org/4community. You can also go to http://wssymphony.org/news/2012-concert-for-community/ for more event information.
In 2007, Maestro Moody commissioned Locklair to adapt his piece PHOENIX Fanfare and Processional for orchestra. Like the original PHOENIX Fanfare, a vital element of the piece is an antiphonal brass ensemble (in this case two trumpets and two trombones), which are placed either in the rear or at the sides of the performance space. An antiphonal dialogue develops between this ensemble and an identical one located within the on-stage orchestra. As the opening progresses, the dialoguing quickly grows to include the entire orchestra. The piece then moves to sections involving the brass ensemble, various sections of the orchestra as well as portions involving the full orchestra leading ultimately to a dramatic conclusion.
Other works on the program are the first movement of Beethoven's Symphony No. 5, in C minor, op. 67, The Pines of Rome, by Ottorino Respighi and the first movement of Mendelssohn's Violin Concerto in E minor, op. 64, with 2012 Peter Perret Youth Talent Search junior winner, 11-year-old violinist Lucas Chen. Colin Laursen, the senior winner, will also perform the first movement of Tchaikovsky's Violin Concerto in D Major, op. 35.
The Concert for Community is being presented in partnership with the Institute for Public Engagement of Wake Forest University and is sponsored by the George and Mary Tucker Charitable Fund.
For information about Locklair, including a bio, list of works, discography and much more, please visit http://www.locklair.com.
Recent Posts
May 28, 2020

May 22, 2020

May 20, 2020