Main Content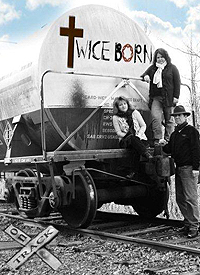 Twice Born, a musical group that features Wake Forest staffer Laura Gammons, will play on Thursday, March 29, in front of the bookstore on campus. The event will run from 2-4 p.m. and is free and open to the public. A "meet and greet" with the band will follow.
The group released the CD "On Track" earlier this month, and it will be on sale, along with t-shirts. The band will play music from the CD, as well as cover tunes from past and present Top 40 praise groups. Refreshments will be served.
Gammons has been the administrative coordinator for the department of history since 2005. She has been named Employee of the Year and is a member of Omicron Delta Kappa, the National Leadership Society.
Gammons, who sings, started the band two years ago with her husband, Dean, who plays keyboards and drums. They added Kyndra Edwards as lead vocalist, and earlier this year, Eddy Combs (bass) and Larry Adams (drummer) were added.
"'On Track' was a musical project that just felt right," Gammons said. "This was evident by the fact that the initial 12 tracks plus two spare songs were laid down with musical layering in just 12 hours."
This spring and summer, the band has plans to play dates in the South, including South Carolina, Arkansas and Mississippi.
"For my part, Twice Born provides me with an outlet for worship, a vehicle to express the inner part of me that yearns to link with the creator," Gammons said. "Our mission is simple: spread God's word through music and perform it to the best of our abilities. I believe our vision to be one of providing hope to those who hear our music.
"The quest for our origin and ultimate destination is one that has puzzled man since time immemorial. To know Christ as a 'personal' savior and know the peace that comes from that knowledge surpasses all we could hope to achieve in life and is a message TwiceBorn seeks to spread through word and deed."
TwiceBorn is on Facebook.
Recent Posts
May 30, 2020

May 29, 2020

May 29, 2020