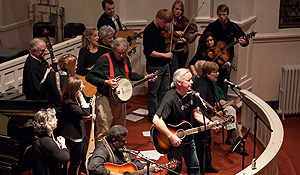 "The Unbroken Circle," a bluegrass band that incubated in the living rooms of Wake Forest faculty and staff, played a concert recently that raised $5,000 for the Shalom Project, a nonprofit that offers vital programs to its West Salem neighborhood.
The multigenerational band, whose members all have ties to Wake Forest, teamed up on Jan. 29 at the Green Street Church with professional blues musician Big Ron Hunter to perform a benefit entitled "Come Home." Provost Emeritus Ed Wilson also read from the poetry of W. B. Yeats to an audience that exceeded 250.
"Wake Forest students, faculty and staff have a long history with both Green Street Church and the Shalom Project, be it serving the homeless through the Wake Saturdays program, tutoring children in the after school program, or serving meals at Wednesday night dinners," said Martha Allman, dean of admissions and one of the Unbroken Circle's founding members.
In fact, there are numerous ties that bind the Shalom Project with the University. Wake Forest students regularly pursue internships with the Project though the School of Divinity and the Institute for Public Engagement. Several of the band members are also members of the church or have volunteered for Project Programs. Allman serves of the Board of Directors for the Shalom Project.
The concert's song selections evoked the theme of home and homecoming.
"The theme fit both the band and The Shalom Project," Allman said. "We play the music that is native to this area — traditional Appalachian music, African American spiritual music, old time Scots Irish Fiddle tunes, blues, gospel, bluegrass — it's the music of our home. We also play monthly in each other's homes.
"And then, for so many in need, Green Street and the Shalom Project provide food, shelter, medicine clothing, the tutoring and after school care of children. Like home, it is a place of comfort that offers care and support."
Songs like Stephen Foster's "Hard Times Come Again No More," with its powerful images of hunger and poverty, spoke directly to the purpose of the concert. In recent years, the number of people using Shalom Project's medical clinic, food pantry and clothes closet has been steadily increasing.
"In December, it became apparent that the needs of the Shalom Project programs were rapidly outpacing donations," Allman said. "We were delighted to be able to use our love for music and our gifts to help a program that does so much with so little."
Mary Foskett, director of WFU's Humanities Institute, said: "The humanities and arts — poetry and music — can be powerful means of accessing and expanding our capacity for empathy and acting on behalf of the common good."
"We were delighted to be able to use our love for music and our gifts to help a program that does so much with so little," concurred Allman.
The composition of the group fluctuates.
"The Unbroken Circle is a non-exclusive, fluid group," said Linda Luvaas, the assistant vice president of corporate and foundation relations, who plays the mandolin.
On Jan. 29, the performers were: Martha Allman (Admissions); Joe Allman; professor Billy Hamilton (Russian); Bill McIlwain (MAEd '94); professor Rebecca Thomas (German); Linda Luvaas (Advancement); Linda Bridges (Admissions); Kyle Bridges ('09); freshman Bailey Allman; sophomore Cecelia Kucera; high school students Ella Allman, Billie Feather, Will Huesman, and Michael Pittard; with special guests Big Ron Hunter and Provost Emeritus Ed Wilson.