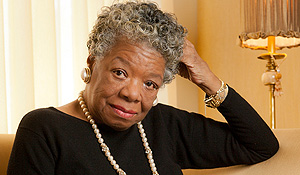 Maya Angelou says she looks forward to the time when Black History Month won't be needed.
"You hope that the time will come when it won't be necessary, when there won't be racial prejudices or sexual prejudices," said Angelou, a noted activist, author and poet who lives in Winston-Salem and is the Reynolds Professor of American Studies at Wake Forest.
But great change takes time, she said, "so we have the work cut out to do what we can to make our country more than it is today. It will be necessary to have a Black History Month until the playing field is leveled, until black history and Latino history are all part of the history, period."
Angelou is frequently asked to participate in programs related to Black History Month. This year, she will discuss the civil-rights era in a new hour-long radio program airing in syndication on more than 200 radio stations across the country.
In the Winston-Salem area, the program, entitled "Maya Angelou's Black History Month Special," will air at 3 p.m. on Tuesday, Feb. 28, on WFDD (88.5).
Read more from the Winston-Salem Journal article »
Find out more about the show on mayaangelouonpublicradio.com »