Main Content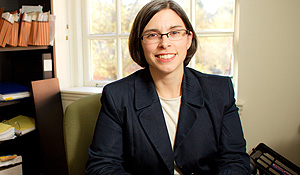 When Ana Iltis, co-director of the Center for Bioethics, Health and Society, and a colleague at Saint Louis University read the bioethics journals in their field, they both thought something was missing — the voices of the people in the cases or research.
Narrative Inquiry in Bioethics aims to explore current issues in bioethics through personal stories or narratives, case studies and qualitative research studies. "We never hear back from the people on whom we're doing all this work," Iltis said. "That's what's missing from the world of journals. We're excited to be giving a voice to people who are clearly relevant to our work."
Each issue, edited by Iltis and James M. DuBois, Ph.D. and director of the Bander Center for Medical Business Ethics at St. Louis University, takes on a specific topic, and invites people with personal stories about the issues to send them in with the goal of receiving twelve. Guest commenters who are experts in the topic will review themes between the stories and tie them back to case studies.
The first issues, published this fall, focused on inpatient psychiatric hospitalization and the business side of health care. Future issues will focus on, living organ donation and the role of nursing assistants in long-term care. The editorial board features leaders in narrative bioethics, qualitative research and clinical and research ethics, who contribute to the project and find the personal stories through connections, listserve postings or email.
"We've had incredibly positive feedback from all over the place," Iltis said. "People in the bioethics field like it because it's different. It's not something they've encountered before. We call it research meets real life."
The journal is published by Johns Hopkins University Press and available electronically through Project MUSE.
Recent Posts
July 14, 2020

July 13, 2020

July 13, 2020