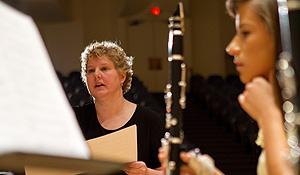 A very old ensemble is moving in new directions.
That's the message that Eileen Young is sending as she prepares to lead the Salem Band in her first concert as the group's music director. The presentation, which is Dec. 20 in Home Moravian Church, is the group's annual holiday concert. It will feature everything from holiday swing music to renditions of traditional, sing-along carols.
Young, 47, who teaches clarinetists and saxophonists at Wake Forest, started rehearsals with the Salem Band in September after replacing Jeff Whitsett, who retired. She is excited about the possibilities.
Read more from the Winston-Salem Journal »