Main Content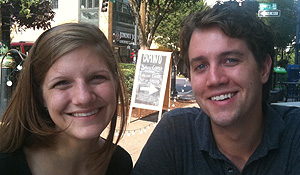 Clay and Tiffany Hassler, a husband and wife filmmaking team who both work at Wake Forest, have produced a three-minute video for the Piedmont Triad Film Commission that encourages producers, directors, and location scouts to bring their next production to the Piedmont Triad.
To land the $5,000 contract to produce the video, the Hasslers won a contest this past summer in which area filmmakers submitted 30-second shorts. The contest was funded by a grant from DataMax Foundation of Winston-Salem.
Clay Hassler is a visiting assistant professor of Communications, and Tiffany Hassler is an assistant director of the Student Union.
The Hasslers produce content for short films, features, documentaries, as well as commercials and industrials for businesses. Clay received his MFA from Florida State's College of Motion Picture Arts in writing and directing. He and Tiffany are producing a documentary about Winston-Salem's historic Ardmore neighborhood, where they live.
"The Hasslers are just the kind of creative talent that we want to keep in this region by bringing more production work here," says Rebecca Clark, executive director of the Piedmont Triad Film Commission. "Their video is a perfect way to introduce more production companies to this region of North Carolina, giving them a hint of our diverse locations along with all of our crew and our history of great films made here."
View the Hasslers' video, "Focus on the Piedmont Triad," here: http://vimeo.com/31619690
The Piedmont Triad Film Commission is an economic development organization working to generate revenue and jobs by recruiting and facilitating film production in the twelve-county central region of North Carolina.
Recent Posts
May 22, 2020

May 20, 2020

May 19, 2020