Main Content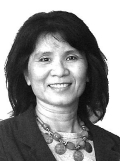 Cristina Yu, 52, died Thursday, Nov. 3, at the Kate B. Reynolds Hospice Home. Yu worked as a librarian at the Z. Smith Reynolds Library for 22 years, and she was instrumental in organizing the annual Chinese New Year Festival on campus. Her husband, Wei-Chin Lee, is a professor in political science, and one of their daughters, Rae-yao, is a freshman at Wake Forest. Their other daughter, Rae-ling, is a junior at Reagan High School.
Christina's life will be celebrated at 1 p.m., on Wednesday, Nov. 9, at Brendle Recital Hall, followed by a reception.
Cristina began her work at Wake Forest as a technician in the Art Slide Library in 1988. In 1989, she joined the Z. Smith Reynolds Library team as a technician within the Cataloging Department for a brief stay before moving on to Reference and Interlibrary Loan. It was in Interlibrary Loan that Cristina blossomed as a librarian. She remained a solid contributor to the successes of the Library, the Wake Forest faculty, staff and students. She was a committed advocate for the library patrons, always seeking ways to improve the quality of services her unit provided.
She was also a very much recognized leader within the state, instrumental in forming partnerships and collaborative efforts amongst other North Carolina schools, both public and private. In the mid-'90s, Cristina took a lead role in the planning for technology-related programs and workshops within the state library association. Most recently she planned and hosted the 2010 meeting of the North Carolina Interlibrary Loan Users Group at Wake Forest.
Cristina's desire to share her cultural heritage prompted her to start the Chinese New Year Festival in 2000. It became a highly anticipated cultural event, attracting hundreds from the Winston-Salem community. She was also an ambassador of Wake Forest to Chinese elementary schools when she visited there during the Study Abroad program in 2002.
Cristina was a treasured friend and a devoted colleague, who will be missed by all.
Those who would like to contribute to a book fund in Cristina's memory can send a check to the Z. Smith Reynolds Library.
Recent Posts
May 22, 2020

May 20, 2020

May 19, 2020