Main Content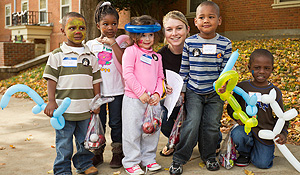 Project Pumpkin, the student-organized event that brings about 1,200 children to campus for trick-or-treating, will be held Tuesday, Oct. 25 from 3-6 p.m. Please be prepared for heavy traffic and traffic re-routing in the afternoon.
Traffic will be heavy near Lot N. Officers will be in the area to help direct traffic in coordination with buses on campus.
Buses will be unloading/loading in Lot P, east of Wait Chapel, starting at 3 p.m. until late afternoon. Because of this there will be no parking in Lot P throughout the day. If you normally park in Lot P, please use designated parking on Davis Field. If it is raining on Oct. 25, half of Lot P will be open. If that half of the lot is full, please use available spots in Lot Q.
Lot B, between Taylor and Davis Halls, will be closed all day, strictly reserved for Project Pumpkin deliveries. The lot will be monitored by an officer.
Overflow parking for Faculty/Staff will be available in Lot Q as well as on Davis Field.
View the parking map (PDF) to locate lots »
The Department of Parking and Transportation would like to encourage the entire Wake Forest community to be patient and understanding during this very important event. Thank you in advance for your cooperation.
Recent Posts
August 6, 2020

August 5, 2020

August 5, 2020