Main Content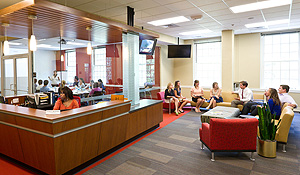 Over the summer, parts of Reynolda Hall underwent a transformation to emphasize collaboration and student support. During an open-house event on Sept. 19 to celebrate the changes, President Nathan Hatch recognized that Reynolda Hall has acted as a nexus for all things Wake Forest for 55 years.
"Since the founding of the Reynolda Campus, this building has served as a gathering place for students, faculty, and staff – facilitating an exchange of ideas and fostering the creativity and innovative leadership which has been vital to our University's success," Hatch said. "I am heartened by today's reception that celebrates the renewal of this great building."
The third floor of Reynolda Hall, now called the Faculty Center of Excellence, houses the Humanities Institute, Institute for Public Engagement, Office of Research and Sponsored Programs, Teaching and Learning Center, Professional Development Center, and the Office of Diversity and Inclusion. The open floor design allows more efficient use of the space and encourages interaction between the centers and institutes, which were previously isolated in different locations across campus.
Interim Provost Mark Welker expressed excitement about the new opportunities for growth and collaboration in the renovated space. He mentioned the closer proximity faculty will have to support offices and was optimistic about increased student-faculty engagement in this area of campus.
On the second floor, new office space was created in the East Wing of Reynolda Hall for the Office of Personal and Career Development (OPCD). Andy Chan, the vice president of OPCD, explained that the new office design was intended to represent the professional world outside of campus.
"We want students to start the career inquiry and development process earlier, which will enable faculty and staff to begin having more meaningful and intentional conversations with students about their personal career path," he said. The new office was designed for flexibility and innovation with more than 7,000 square feet of space dedicated for student, staff and faculty collaboration.
On the first floor, the Center for International Studies, Graduate School of Arts and Sciences, Office of Sustainability and the Wake Forest University and Magnolia Scholars received upgrades that increase the visible presence of these offices on campus and provide additional space for student-focused services. The Office of the Chaplain, Provost and Budget Offices and Financial Aid and Conference Services received upgrades on the ground floor.
Categories: Events, University Announcement
Tags: Andy Chan, Center for International Studies, Chaplain, Conference Services, Diversity and Inclusion, Faculty Center of Excellence, Financial Aid, Graduate School of Arts and Sciences, Humanities Institute, Institute for Public Engagement, Magnolia Scholars, Mark Welker, Nathan Hatch, Personal and Career Development, President, Professional Development Center, Provost's Office, Research and Sponsored Programs, Reynolda Hall, Sustainability, Teaching and Learning Center
Recent Posts
May 22, 2020

May 20, 2020

May 19, 2020