Main Content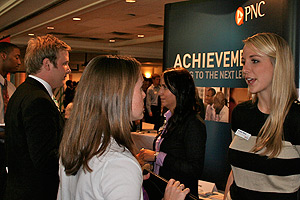 The annual fall Internship and Job Fair hosted by the Office of Personal and Career Development (OPCD) was held on Wednesday, Sept. 14. An all-time record 605 students met with the 44 organizations and their representatives who came from a wide range of industries. Notable organizations included Teach for America, PepsiCo, RiverRun International Film Festival, Deloitte Consulting and the Peace Corps.
First-year through graduate students from 35 academic programs from the College and the Schools of Business attended to learn about intern and full-time opportunities, as well as learn about what's required to become qualified candidates.
Employers raved about the level of student preparation, as well as the diversity of majors, class years and programs represented. Most were surprised but very happy with the interest from first-year students who were there to learn about potential careers and network with representatives.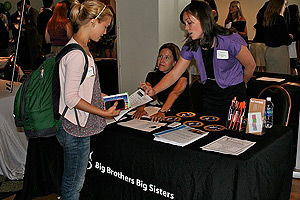 This event kicked off the annual Wake Forest recruiting season. Numerous organizations have scheduled on-campus information sessions to educate students on their hiring needs and process, and what characteristics they are seeking in applicants. On-campus interviews will begin the last week of September.
Additional career fairs will be hosted later in the year with the Graduate and Professional School Day and the Enjoy the Gap Fair in November, and the spring Internship and Job Fair in January. Students can find information on all career-related services, programs, workshops and on-campus interviews on the OPCD website and in DeaconSource, the Wake Forest one-stop system for all recruiting-related activity. A link to the DeaconSource can be found on the Office of Personal and Career Development website, www.wfu.edu/opcd.
Recent Posts
May 22, 2020

May 20, 2020

May 19, 2020