Main Content
Message from Mark E. Welker, Interim Provost: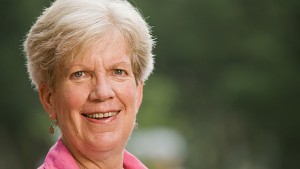 Dr. Lorna G. Moore will be stepping down from her position as Dean of the Graduate School of Arts and Sciences when her 5-year term ends on June 30, 2012. During her tenure, Dean Moore, her staff, and our graduate faculty have improved graduate education in a number of areas.
The interdisciplinary PhD programs were reorganized to better meet the needs of incoming students and compete more effectively for high-caliber, diverse students.  Another outcome has been to strengthen the position of graduate faculty on both the Reynolda and Medical School campuses so that the College and the Medical School faculty are now on equal footing.
Dean Moore also helped us improve the financial structure for the Graduate School's Masters, PhD, and certificate programs by raising student stipends for students in all programs, the numbers of teaching or other kinds of graduate student assistantships, and staff support. Wake Forest is grateful for her accomplishments.
Her decision to step down is prompted by her desire to pursue her 30+ year physiologic/genomic adaptation to the environmental stress of residence at high altitude. Her internationally-recognized research program on the importance of the maternal/fetal interface in the adaptive process has continued here, forming several new collaborations.
She has been invited to Cambridge University as a visiting scholar for the 2012-13 academic year and will also spend time in Bolivia to collect data for her competing NIH grant renewal. She will then rejoin the faculty at the University of Colorado Denver.
In the next few weeks, Dean Abraham and I plan to appoint an ad hoc committee to examine how to build on strengths and correct weaknesses in graduate education at WFU and this will be timely information for the next Provost and new leadership in graduate education. This report should be completed by early next year for consideration by the Dean of the Medical School and the incoming Provost prior to the appointment of a new leader of graduate education for Wake Forest.
Recent Posts
May 22, 2020

May 20, 2020

May 19, 2020