Main Content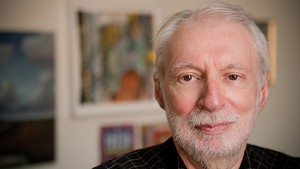 Professor Emeritus of Psychology Robert C. Beck, whose 50-year tenure ranks as one of the longest in Wake Forest history, has died. Beck, who retired two years ago, died on Aug. 18 in Winston-Salem after a brief illness. He was 79. A memorial service will be held at 3 p.m. on Saturday, Sept. 10, in Wait Chapel.
Deborah L. Best ('70, MA '72), William L. Poteat Professor of Psychology, said Beck was a wonderful mentor to her — and countless other students and professors — starting when she was an undergraduate and graduate student and continuing when she became a colleague in the 1970s.
"He was brilliant and inquisitive, with the broadest range of interests of anyone that I've ever known," she said. "He had a wry sense of humor and was very kind and gentle."
Beck had just earned his Ph.D. when he was hired in 1959 as the second faculty member in the then brand-new psychology department, spun off from the philosophy department the year before. He set up the department's first teaching and research laboratories soon after he joined the faculty, and in the late 1960s he established and served as the first director of the University's Office of Research and Sponsored Programs.
"He truly shaped the curriculum in the department for many, many years," Best said. "He taught every major that came through the department; he was instrumental in devising the curriculum for the graduate program; and he set a tone in the department that respected students and respected science. He wanted students to understand and love science, so that even if they didn't go on to earn a Ph.D. they would still have that knowledge and curiosity."
When Beck retired in 2009, he was the last of the generation of faculty members hired in the 1950s — in the post-move expansion years immediately following Wake Forest's relocation to Winston-Salem — to retire. "Fifty years is a nice round number," he said at the time.
Beck is survived by his wife, Bettianne; five children, Joel, Amy, Meredith, David and Stephen; 10 grandchildren; and one great grandchild.
"He loved Wake Forest and his family," said his oldest daughter, Amy Rominger. "He found the right job (at Wake Forest) and he stuck with it. He was happy going to Wake Forest every day of his life."
Professor Emeritus of Psychology Charles L. Richman, who taught with Beck for 38 years, said he was "a person of the highest integrity" who was a caring and honest friend. "The psychology department lost a wise, cherished, and giving colleague and friend; his students lost an invaluable teacher and research model as well as a person who was always there for them; and, the University lost a tradition."
A native of Quincy, Ill., Beck earned his undergraduate degree in psychology and his Ph.D. in experimental psychology, both from the University of Illinois. He was completing a post-doctoral fellowship at Illinois when he flew to Winston-Salem for an interview with then-College President Harold W. Tribble.
"I was asked by Dr. Tribble what I thought it would be like to move from a large state university to a small Baptist college," Beck said in a 2009 interview. "I told him in essence that I wouldn't bother the Baptists if they wouldn't bother me."
"I always thought that whenever I outgrew the institution, I'd look for another job," he said. "I never outgrew it. The psychology department grew at a good pace, Wake Forest grew from being a small regional college to a highly ranked national university, and we've always had great students. What could be better?"
Read Beck's obituary and sign the guest book »
– By Kerry M. King ('85)
Recent Posts
May 22, 2020

May 20, 2020

May 19, 2020