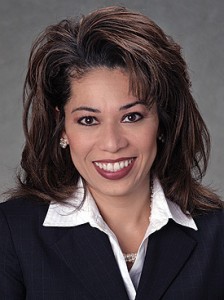 Carmen I. Canales will join Wake Forest as the associate vice president for human resources and chief human resources officer on July 1, 2011. In this role, she will be responsible for recruitment and employment, employee benefits, employee relations, leadership development and talent management, training and development, compensation and classification, human resource information systems, equal opportunity and affirmative action, and human resource policies and procedures.
Canales comes to Wake Forest from Womble Carlyle Sandridge & Rice, PLLC, where she served for nearly five years as the chief talent officer, with firm-wide responsibility for the leadership and professional development, recruiting, diversity, compensation and benefits functions. In that role, Canales focused on the recruitment, retention, and development of attorneys and professional staff, and worked with the firm's leadership to ensure the human capital policies and programs were integrated and aligned to support the firm's strategic agenda.
"Carmen brings to Wake Forest a wealth of human resource experience and skills that will help us continue to attract, develop and retain talented people," senior vice president for finance and administration Hof Milam said. "She is a superb strategic thinker with a strong commitment to collaboration and teamwork. I look forward to her joining the Wake Forest community."
Prior to her work at Womble Carlyle, Canales worked as vice president in human resources for Wachovia, supporting several business units. Her responsibilities included executive coaching, diversity, employee relations, human capital development, recruiting and project management.
Canales has also served as a Human Resources Manager for Pepsi-Cola's Customer Service Center.  Her responsibilities there included building organizational and leadership capabilities through professional development, improving organizational health and maintaining a positive employee relations environment.
Canales is originally from Michigan and has lived in Winston-Salem for more than seventeen years. She obtained a Master of Labor and Industrial Relations degree from Michigan State University and is fluent in Spanish. Canales serves on the Board of the United Way of Forsyth County, is a past Board member of the River Run International Film Festival, and has been actively involved with both the Arts Council of Winston-Salem and Forsyth County and the Hispanic League.
Interim Provost and Professor of Chemistry Mark Welker said, "Carmen's background in a large law firm, coupled with her deep contacts in the Winston-Salem community, will be tremendous assets for Wake Forest. Her track record in building professional development programs will also be a plus for us as we continue to grow our offerings in this area."
In her free time, Canales enjoys activities with her husband Ken Hernandez and daughters Marisa (13) and Isabel (11).