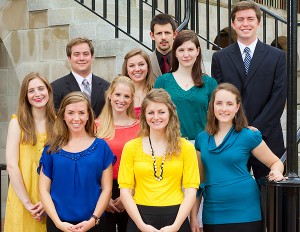 Ten seniors have been named Wake Forest Fellows and will work in the President's Office, Information Systems, University Advancement and in other offices for the next year.
This is the third year that a select group of seniors has been selected as Fellows to work in the University administration for a year. They will begin working following graduation next month.
Fellows for 2011-2012 are:
Hadley Beier-Green, Topeka, Kansas: START Gallery
Caitlin Brooks, Mechanicsville, Md.: Sustainability Office
Elizabeth Garrett, Wilmington, N.C.: Student Life
Kendall Hack, Hilton Head Island, S.C.: Provost's Office
Evan Leadem, Chapel Hill, N.C.: President's Office
Caroline Naughton, San Francisco, Calif.: Personal and Career Development Office
Tyler Pruitt, Winston-Salem: Information Systems
Austin Shrum, Southlake, Texas: University Advancement
Varian Tunstall, Vienna, Va.: Dean of the College
Beth Ann Williams, Willow Park, Texas: Humanities Institute
The fellows program was established in 2008. In addition to working in a particular department, the fellows also participate in leadership activities and interact with top administrators and faculty to learn about higher-education administration.
Recent Posts
March 25, 2023

March 23, 2023

March 23, 2023