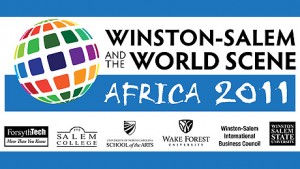 Six institutions in Winston-Salem have joined together to establish an ongoing series of lectures and programs to bring their students and faculties together and engage the community in taking a closer look at world events. The series, "Winston-Salem and the World Scene," is focusing on Africa this year.
On March 28, Nuhu Yaqub, the Fulbright Scholar-in-Residence at Wake Forest, will discuss how corruption in Africa — especially the widespread looting by a number of leaders of their countries' treasuries — has limited economic and political development in a continent rich with natural resources. He will speak on "The Pervasiveness of Corruption in Africa" at 4:30 p.m. in the Kulynych Auditorium in the Welcome Center. His talk is free and open to the public.
Yaqub, a native of Nigeria and formerly vice chancellor of the University of Abuja in Nigeria, is teaching in the political science department this year. He has published widely on African political economy, international politics, democratic transition and consolidation, and public policy.
The other institutions participating are Forsyth Technical Community College, Salem College, North Carolina School of the Arts, Winston-Salem State University and the Winston-Salem International Business Council.
Kline Harrison, associate provost for global affairs, and Barbee Myers Oakes ('80, MA '81), assistant provost for diversity and inclusion, said the series is a good chance for local colleges and universities to work together. "Because Wake Forest and the other institutions share the common goal of advancing global awareness, we saw potential synergies in offering a series of events focused on a common theme that would provide increased opportunities for global learning and understanding," Harrison said.
Winston-Salem State hosted the first program in the series last month with a lecture and exhibit on Bunce Island in Sierra Leone, West Africa, from which thousands of slaves were sent to the U.S. in the mid- to late 1700s.
The Winston-Salem International Business Council will host a panel discussion on Africans in business next month, followed by programs next fall at UNC School of the Arts, Salem College and Forsyth Tech.
For more information, call Leigh Stanfield ('98) at 758-4117 or e-mail WSWorldScene@nullgmail.com.
— By Kerry M. King ('85), Office of Communications and External Relations