Main Content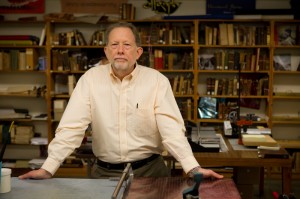 Craig Fansler, who has worked at Wake Forest for 16 years, says he has his dream job: preservation librarian in the Z. Smith Reynolds Library. In addition to repairing books that are hundreds of years old, he also designs the library's marketing materials and exhibits. Fansler was named one of the University's Employees of the Year in 2005.
What do you do?
I'm responsible for all of the library exhibits, which I often do along with an academic class or with my students in the LIB100-Information Literacy course offered through ZSR. I also design most of the library publicity: brochures, Library Lecture Series flyers, banners for events, holiday cards, etc. My design work really allows me to be creative and also serve a need for ZSR. I love designing exhibits such as ones we've done collaboratively with the Forsyth County Public Library for Ray Bradbury's "Fahrenheit 451" and Zora Neal Hurston's "Their Eyes Were Watching God."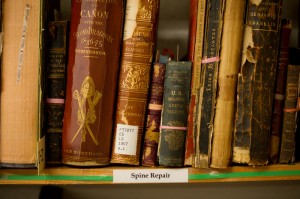 I oversee all book repairs which are either done by myself or my great student assistants. Many of these repairs are focused on Special Collections and have given me the opportunity to repair or protect books in our collection that are hundreds of years old, including a world map from 1708. I've also repaired the poignant Holocaust account "Ein Psycholog erlebt das KZ" by Viktor Frankl  and the equally poignant "A Letter to Ships Engaged in Slave Trade from 1819."  I'm involved as well with library digitization where we scan print materials for online access. I'm fortunate to have a diverse range of duties and a great group to work with which keep me busy, but very, very happy.
What's one of the highlights of your time here?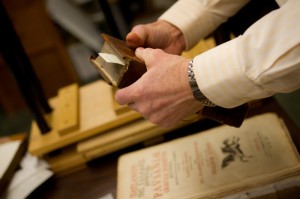 This past spring, Audra Yun, Barry Davis and I presented "Preserving Forsyth's Past" several times in the public libraries of Forsyth County. This program taught individuals and groups how to preserve and digitize their heirlooms. Probably my greatest highlight at ZSR was working on "single threads unbraided" which celebrated the art and poetry of Wake Forest alumnus, A.R. Ammons. The A.R. Ammons Symposium this November was a high point because I had so many diverse design jobs: flyers, posters, programs and banners for ZSR and the Wake Forest community. I've also been able to present at conferences and even write an article or two with the help of my ZSR colleagues. I cannot state strongly enough what an incredibly wonderful work environment Lynn Sutton and Wanda Brown have created at ZSR.
What do you like best about working in the library?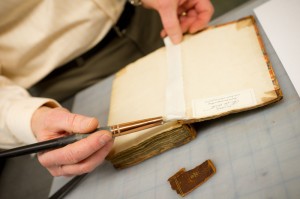 ZSR is one of those places you can't entirely explain until you've experienced it. It is a caring group of professionals who not only get along, but thrive in a nurturing environment. My story of getting an opportunity and then being encouraged to grow and develop could be repeated many times. Who wouldn't want to work in a place like that? I'm very proud to be part of this group, every one of whom I consider to be incredible people. ZSR just won a national award, the ACRL Excellence in Academic Libraries Award. This is so cool and makes me doubly proud to be part of such an amazing group. From the bottom to the top, ZSR is pretty cool: Capture the Flag, Get Game, Student Murals and on top of these things, we're a pretty darn good library in the academic sense. Here is one of the unbelievable things we do as a group: we come in late every night during exams and give away free food to the students studying…and we raise the money to pay for the food…and we advertise it.. and we have fun things for them to do while they are there- like a grafitti wall for which we supply the paint.  We call it "Wake the Library."
Where did you grow up?
I am a native North Carolinian, born in Winston-Salem. My father was a Methodist minister and my mom supported him and was active in the church. We moved around a lot. I went to elementary school in Greensboro and had the good fortune to attend high school in the Philadelphia area. I'm living in the house once owned by both my father and grandfather. My ancestors are buried in a Moravian graveyard just above my home. My wife and best friend teaches 5th grade at Bolton Elementary. I have children and grandchildren here in Winston-Salem and Tennessee. I feel pretty lucky.
How did you end up at Wake Forest?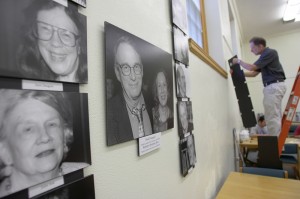 I started at Wake Forest in 1994 as a preservation technician when I first moved to Winston-Salem. I have a background in graphic design and exhibit preparation while working for the state of Tennessee. I took courses in book arts at the Appalachian Center for crafts, and that experience led me to this position originally. (I've thanked my teacher many times since then.) My early days were filled with repairing books, supervising students and creating library exhibits. I was an artist and an outsider to the library world, so I also became oriented to libraries and I found ZSR to be a wonderful place. In 2005, I earned my Master's in Library Science degree from UNC-G and became a professional librarian. Since then, I have been fortunate to have many exciting opportunities. I am able to collaborate on projects together with my friends at ZSR and do things I could never do alone, and this has been wonderful.
What do you do when you're not working?
Off the clock, I like to garden. I've turned my front yard into a bunch of garden beds, which give us fresh vegetables throughout the summer. I also love cycling, a sport I picked up from library friends, and like to wonder out and about to see new places on two wheels. I also love making things: painting, sculpture, crafts of all kinds and lately, sewing. I love to travel with my wife. We take at least one trip each year, and especially enjoy going to Maine. We love to ride our bicycles and are always looking for new places to adventure.
What's your dream job?
I have my dream job, or at least close to it!
Recent Posts
July 2, 2020

July 2, 2020

June 30, 2020