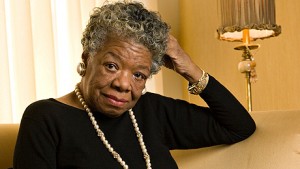 Reynolds Professor of American Studies Maya Angelou received the Presidential Medal of Freedom from President Barack Obama at the White House on Tuesday.
Angelou, a world-renowned poet, author, actress and civil rights activist, joined the Wake Forest faculty in 1982. She was honored along with former President George H.W. Bush, businessman Warren Buffett, artist Jasper Johns and 11 others. The Medal of Freedom is the country's highest civilian honor.
The recipients "reveal the best of who we are and who we aspire to be," Obama said during the East Room ceremony.
Angelou, seated between Buffet and environmental activist John H. Adams, listened as Obama described her life's journey. Obama bent down and kissed her on the cheek as he presented her medal.
"As a girl, Marguerite Ann Johnson endured trauma and abuse that actually led her to stop speaking," Obama said in his remarks. "But as a performer and ultimately a writer, a poet, Maya Angelou found her voice.
"It's a voice that has spoken to millions, including my mother, which is why my sister is named Maya. By holding on, even amid cruelty and loss, and expanding her sense of compassion and ability to love, by holding on to her humanity, she has inspired countless others who have known injustice and misfortune in their own lives."
Watch the ceremony.
Additional coverage.
More campus news at Inside WFU.
Angelou first visited Wake Forest in 1971 for a speaking engagement in Wait Chapel, and then returned in 1982 as the first Reynolds Professor. In 2002, the School of Medicine created The Maya Angelou Center for Health Equity to study racial and ethnic disparities in health care and outcomes. She received an honorary degree from Wake Forest in 1977.
In an interview in USA Today in 2008, Angelou talked about teaching: "I'm not a writer who teaches. I'm a teacher who writes. But I had to work at Wake Forest to know that."
Wake Forest President Nathan O. Hatch offered his congratulations to Angelou. "This is fitting recognition of Dr. Angelou's lifetime of service and creativity, and all of us at Wake Forest are very proud of her. She has given her life in the name of creating a love of language and a keen awareness of the power of literature and learning, and generations of Wake Forest students have lived richer lives for her teaching and guidance."
Angelou is the author of more than 30 books of fiction and poetry, from her best-selling memoir, "I Know Why the Caged Bird Sings," to her recently published personal cookbook, "Great Food, All Day Long, Cook Splendidly, Eat Smart." In 1993, she delivered a poem, "On the Pulse of Morning," at Bill Clinton's first Inauguration.
The recipients of the 2010 Medal of Freedom were first announced in November. The other winners were:
German chancellor Angela Merkel;
Holocaust survivor and humanitarian Gerda Weissmann Klein;
U.S. Rep. John Lewis (D-Ga.);
The late Dr. Tom Little, who was murdered by the Taliban last August while on a humanitarian mission in Afghanistan;
Cellist Yo-Yo Ma;
Civil rights activist Sylvia Mendez;
Baseball legend Stan "The Man" Musial;
NBA basketball player and coach Bill Russell;
Arts advocate and former ambassador to Ireland Jean Kennedy Smith; and
Former AFL-CIO President John J. Sweeney.
— By Kerry M. King ('85), Office of Communication and External Relations