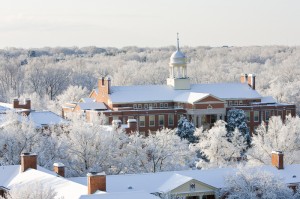 When winter weather strikes this year, students, faculty and staff will be notified of closings and delays through numerous methods.
When a winter storm is moving into the area, campus police and facilities staff monitor weather reports, check road conditions on and off-campus, and consult with city police. Decisions to close the Reynolda Campus or to delay the opening of campus are usually announced by 6 a.m.
Closings or delays are communicated through the following methods:
E-mail to students, faculty and staff
Voice mail to faculty and staff
Weather Line, 758-5935
88.5 WFDD
WSJS, 600 AM
WXII Channel 12
WGHP Fox 8
WFMY News 2
News 14 Carolina
For more detailed information, including event cancellations, students, faculty and staff should visit the Wake Forest homepage and Inside WFU. In the event of a delay, please continue to check the website and e-mail in case conditions change and the University closes.
Faculty or staff needing to cancel events should contact Kerry M. King ('85) at kingkm@nullwfu.edu and Mark Anderson at andersmc@nullwfu.edu.