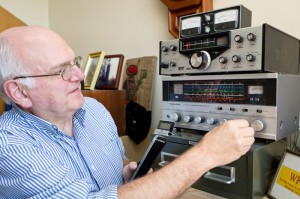 When a winter storm or spring tornado is threatening Winston-Salem and Forsyth County, Ken Hoglund will be watching the weather closely — and preparing to respond and help those in need, if necessary.
Hoglund, whose day job is professor of religion, combines his interests in weather and amateur radio as a trained spotter for the National Weather Service and a ham radio operator trained to relay messages during natural disasters or emergencies. He will be teaching a first-year seminar this semester on the ethical and moral questions that arise when planning for or responding to a disaster.
"I guess I've always been interested in the weather. And once I learned about amateur radio, I realized a hobby could have an important value in serving the public good," he said.
He became interested in amateur radio growing up in Illinois and then picked up the hobby again about a decade ago. "I enjoy talking to people around the world and building my own equipment," said Hoglund, whose FCC-issued call sign is KG4FGC.
Most countries set aside several "bands" or segments of the electromagnetic spectrum for the use of amateur or "ham" radio operators. Several parts of the electromagnetic spectrum are in the shortwave portions where, when conditions are right, radio signals bounce off of the ionosphere and allow long-distance communication with relatively little power.
"One of my most memorable conversations was with a man who was a contractor for the Canadian equivalent of the Coast Guard who was airlifted to remote lighthouse locations near the Arctic circle," Hoglund said. "He was air-dropped to his location, and proceeded to repair and renew the light beacons and radio-frequency guidance systems. He brought his amateur radio gear with him so he could have some human conversations in the evenings since he was remote from any commercial TV or radio communications. It was fascinating to talk with him about his work and the sorts of places he had to go and stay for several days."
While it's a hobby most of the time, amateur radio operators also have an important communications role to play during severe weather or natural disasters. When the National Weather Service issues a winter-weather advisory or a special-weather statement for Forsyth County, Hoglund prepares for a long night monitoring the weather on-line and gathering information with his amateur radio.
As a spotter with the weather service's SKYWARN program, he — and other amateur radio operators — serves as the "eyes on the ground" to send real-time information back to the weather service office in Raleigh. He has to follow specific guidelines for reporting weather incidents, such as the size of hail during a storm.
From the basement of his home or from his office in Wingate Hall (or from the office of colleague Fred Horton, another ham radio enthusiast), he can stay connected even if the power goes out during a storm or phone lines become overwhelmed in an emergency. Ham radio volunteers can be on the air quickly, using minimal equipment, from most any location.
The American Red Cross typically calls on amateur radio operators to set up shop in emergency shelters to relay messages if needed. After the 9/11 terrorist attacks, ham radio operators helped reunite family members and friends. When the space shuttle Columbia exploded over Texas in 2003, ham radio operators helped track the vast debris field.
"You have a large group of trained people (amateur radio operators), with their own equipment, who, without government cost, are available to serve as a redundant and resilient communication system if needed," Hoglund said.
The American Radio Relay League began offering formal emergency training to amateur radio operators after 9/11. Hoglund is one such trained operator. During an ice storm in Forsyth County several years ago, he helped maintain communications between a Red Cross shelter set up at Parkland High School and the outside world. At other tines during threatening weather conditions in the region, he has organized reports from trained observers and relayed them to the NWS.
But it's not only during an emergency that he is called on; it can be anything from a mountain bike race, whose organizers are worried about spotty cell-phone reception, to events where a large number of people will be present, such as the North Carolina Special Olympics.
For several years, Hoglund has taught a first-year seminar, "Finding the good (or at least the best) in disasters," that he developed after watching the chaos unfolding in New Orleans following Hurricane Katrina. "There were a number of moral questions that weren't getting asked," he said.
In the course, he has students examine the planning and response to natural disasters from Katrina to the recent earthquakes in Chili and Haiti, as well as to floods that affect the world's food supply. Students this year will also work with local organizations to do a preparedness assessment of Forsyth County as part of a FEMA program.
Students will also do "tabletop exercises" of potential disasters, such as a pandemic or bird-flu outbreak. "In a pandemic, whom do you vaccinate with limited supplies of vaccine? Who makes the decision? And on what grounds? The course forces students to do some hard-thinking about their private values, and how those values shape public policy," he said.
— By Kerry M. King ('85), Office of Communications and External Relations