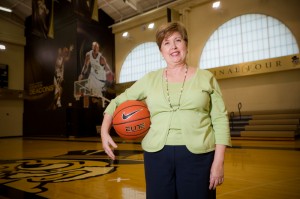 From Bob Staak to Dave Odom to Skip Prosser to Dino Gaudio to Jeff Bzdelik, the one constant in the men's basketball office the last 25 years has been administrative assistant Lynne Heflin.
What do you do?
My husband insists that my real title should be 'facilitator' which, in fact, is true. I work with the ball boys, the coaches and the players. I try to maintain contact with our former players so that they still feel a part of our 'basketball family.' I manage our budget, the ticket lists for games, Coach Bzdelik's calendar, requests for autographed basketballs. No two days are the same. It is my dream job.
What do you most enjoy about your job?
I love being around the players and the coaches. They keep me young and my spirit refreshed. I have always loved sports as a spectator and now I get to be on the 'inside' of a sport. I see how much effort and time is involved in trying to give our supporters the best team that is possible and also ensure that our athletes make progress toward graduation. It is a difficult job, but the coaches and athletes love it and would do nothing else. How could I not give them my best?
How did you end up at Wake Forest?
When my husband was transferred here, a friend suggested I apply at Wake Forest. I originally was hired as a 'temp' while the new basketball coach, Bob Staak, filled the position for administrative assistant. I tell everyone that I hid the supplies so they had to hire me. For whatever reason, they hired me and I continue to love it here. It combines my love of athletics and my degree in English very well.
What do you do when you're not working?
I chuckled a bit at this question. It is possible to let this position take over your life. but my husband and I love to travel with our friends and have been to Spain and Italy with them. Whatever spare time we have we try to spend with our three grandchildren – life's best blessing ever!
Family?
I have been married to my husband, Rob, for 43 years. Our daughter, Kristen, graduated from ECU with a degree in interior design but she is now a full-time mother for their two children – Anna who is 7 and Clay who is 4. Our son, Scott, received a degree in English from Appalachian State and a master's degree in creative writing from UNC-Wilmington. He and his wife live in Louisville with our third grandchild, Aiden, who is 1.