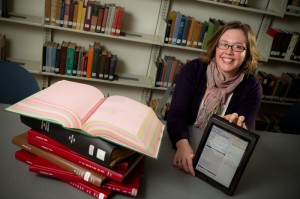 Z. Smith Reynolds librarian Molly Keener has been named a 2011 "Emerging Leader" by the American Library Association (ALA).
Keener, a scholarly communication librarian, is the third Z. Smith Reynolds librarian to be selected for the award in the last few years. Audra Eagle Yun, a project archivist, received the award in 2009, and Lauren Pressley, an instructional design librarian, was named an Emerging Leader in 2008.
The Emerging Leader program enables librarians and library staff from across the country to participate in project planning workgroups; network with peers; gain an inside look into ALA structure; and have an opportunity to serve the profession in a leadership capacity early in their careers.
Keener helps professors and graduate school students review the range of publishing options available for scholarly research, including open access, which makes scholarship available online.
"The benefit to open access is that work is found more quickly and more broadly. It's also available free. That's an advantage to smaller institutions that may not have the funds to purchase subscriptions to a large number of journals," says Keener. "Works available via open access publishing or archiving might also receive more citations than those not accessible without a subscription."
Journal subscriptions are expensive and, with some print issues over 300 pages, hard copies are demanding of shelf space. Electronic journals ease space concerns, but not access concerns.
"Some professors and graduate students are reluctant to publish using open access. There are concerns about the quality of scholarship published and the unrestricted use of materials once they are made available," Keener says. "However, peer review for print journals is not always perfect either. And the benefit of open access is transparency. Experts in a given field have greater opportunity to benefit from each other's research and challenge each other's findings."
New public access rules requiring federally-funded research to be accessible online are making it possible for anyone with an interest to read the latest research findings.
"There is a growing need to help faculty understand the impact of online publishing," says Keener. There are legal requirements that need to be navigated, such as copyright issues and whether electronic copies of published articles can be shared through e-mail or posted on personal websites and in repositories.
"There will be a greater openness to scholarship, absolutely," says Keener. "I'm not sure that open access publishing will be the business model we settle on in the future, but helping scholars navigate the changing world of electronic publishing is a necessity today."
Keener designs workshops on scholarly communication and has presented at several universities nationwide.
The Z. Smith Reynolds library recently received the 2011 Excellence in Academic Libraries Award.
— By Kim McGrath, Office of Communications and External Relations