Main Content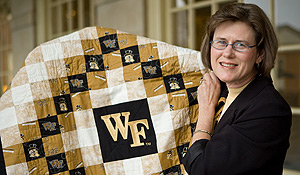 Gloria Stickney, currently business manger in the physics department, also has worked in human resources and research and sponsored programs during the 11 years she's been at Wake Forest, but she's more commonly known around campus as the "quilt lady" for her Wake Forest quilts. Stickney will be showing her quilts, as well as Wake Forest shirts, dish towels, tablecloths and pillows, at the annual Artisans' Fair on Friday from 11 a.m. – 3 p.m. in the Benson University Center, room 401.
What creations will you be showing at the Artisans' Fair?
I'm looking forward to the Artisans' Fair this year. This event began with the need to create "community" across campus. What better opportunity to touch base with colleagues you often speak with on the phone but rarely get to interact with? I enjoy hosting a booth each year just to get to visit and share the items that I make. Each year I always try to create something new or different. I'm in the process of working on a Christmas wall-hanging as well as fun monogrammed pillowcases. I'll have a few quilts to show, as well as the Wake Forest items that we've licensed. I may even have a few surprises ready.
How did you turn your interest in quilting into a business venture?
Who would have thought that coming up with a design for a Wake Forest quilt four years ago would lead us to where we are today! God has a plan for each of our lives and sometimes doors open unexpectedly. You have to have the courage to walk through them. We did.
In 2006, the new item for the Artisans' Fair was the Dreamin' Deacon Quilt©. With the rave reviews and after lots of research, we jumped through the hoops and copyrighted the quilt, sought assistance for obtaining a business license, worked with Licensing Resource Group to become collegiate licensed, and diligently created the designs for the WF trademarks.
Today we are Sew Fabulous, Inc. and own a computerized quilter to stitch the Dreamin' Deacon Quilts© as well as the custom designed T-shirt quilts. We also provide custom quilting for anyone who needs quilting services. Pictures of our latest quilting adventures can be found in the Gallery Section of our website. The Wake Forest licensed products are also available here. We've taken baby steps to grow and gradually continue to do so.
What do you most enjoy about quilting?
I enjoy playing with the piecework and colors of the quilts. I enter the quilts in area quilt shows and have received multiple awards. I teach quilting technique classes and enjoy interacting with fellow quilters. I especially enjoy making the t-shirt quilts. For these I combine a student's (or anyone else's) favorite t-shirts with their favorite colors (of course old gold and black are the best!), add a quilting pattern of his/her most favorite activities, and viola…You have a memory keepsake t-shirt quilt!
What do you do at Wake Forest?
Currently, I assist with the physics research proposal preparation, and I also am responsible for the financial management for the awarded grants in the department. I also help in financial management at the Nanotechnology Center.
What do you enjoy most about your job?
I truly love supporting the endeavors of the physics department. When people ask me about my job I tell them "I work with geniuses. Does that make me one?" I just smile because if you knew me growing up, you would know that science was not my strong point! I work hard to make sure the budget accounts are accurate and paperwork is complete. I enjoy assisting the faculty in devising a plan for their budgets within their individual projects. It is quite challenging.
How did you end up at Wake Forest?
Our family moved to Kernersville in 1999, and I was traveling between Kernersville and Eden trying to maintain a previous job while looking for a job closer to home. I was hired by the Human Resources Office in 1999 during the transition of directors from James Ferrell to Ralph Pedersen and stayed for five years. In 2004, I joined the Office of Research and Sponsored Programs and began training in research administration. I thoroughly enjoyed interacting with faculty and assisting with research proposal preparation. I started working in the physics department in 2008.
Family?
My husband, Bob, is a science/social studies teacher at Walkertown Middle School. After 19 years in the pulpit ministry in N.Y., Ga., Ky. & N.C., he took his ministry skills to an area needing lots of guidance, support and love….7th graders!!! Our oldest son, David, was a student here and is now in the Army. He has been stationed at FOP Altimur, Afghanistan, since October, and is scheduled to be there until September 2011. Please keep all our troops in your prayers as they work daily to protect our homeland. His lovely wife, Lauren, is the company manager for the Hartford Stage, Hartford, Conn. Our youngest son, Jonathan, graduated from Milligan College in May and is currently applying for Officer Candidate School in the Army.
What else do you do when you're not working?
We recently purchased a home off Peter's Creek Parkway to be closer to our church, Pinedale Christian Church, and one with space to allow Sew Fabulous to expand. I play the piano in the Praise and Worship Band as well as accompany the choir. We have devoted our lives to serve God faithfully. By serving Him, we serve others. We count each minute as a blessing and I hope somehow I can in some small way be a blessing to you. Thank you for being a part of my Wake Forest family.
Recent Posts
May 30, 2020

May 29, 2020

May 29, 2020