Main Content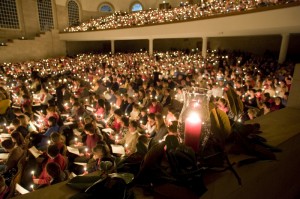 Ninety gallons of traditional Moravian blend coffee; 175 dozen yeast buns with nutmeg, cinnamon and orange flavoring; 2,200 beeswax candles wrapped with red ribbon; and 900 luminaries: the ingredients are in place for Wake Forest's traditional Christmas Lovefeast and Candlelight Service.
The 46th annual lovefeast — the largest single lovefeast in North America — will be held Sunday, Dec. 5, at 8 p.m. in Wait Chapel. The service is free and open to the public.
See and hear scenes from last year's Love Feast.
Gayle Hartgrove, administrative assistant in the Chaplain's Office, has coordinated the service since 1996, ordering the coffee and buns and recruiting about 60 faculty, staff and students to serve as "dieners" (German for servers) to pass out the coffee and buns and light the candles.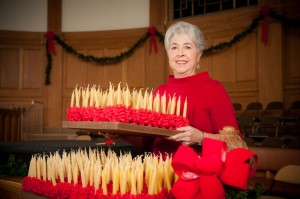 "The lighting of the candles is my favorite part," Hartgrove said. "All of the lights go out in the chapel right before our candle lighters begin row by row lighting the candles. The chapel is in complete silence. It truly is such a beautiful and moving sight."
Read more from Gayle Hartgrove.
The candles are provided each year by the Mary Ann Fogle Service League from Home Moravian Church. The buns are made by Mrs. Pumpkin's bakery in Winston-Salem, and Aramark provides the coffee. Members of Alpha Phi Omega service fraternity place the luminaries that encircle Hearn Plaza.
The service will include a message by Gail R. O'Day, dean of the School of Divinity. O'Day, who was named dean last April, was formerly senior associate dean at the Candler School of Theology at Emory University. University Chaplain Tim Auman will lead the service.
A number of student groups will perform, including the Wake Forest Concert Choir, conduced by Brian Gorelick, associate professor of music; the handbell choir, conduced by senior Beth Ann Williams; the flute choir, conducted by Kathryn Levy, lecturer in music; and the divinity school choir, conducted by Laura Jane Kist. The Messiah Moravian Church Band, directed by Robah Ogburn, will also perform.
University organist Don Armitage and guest harpist Kerry Anne Conner-Briggs ('87) will also provide music. Carillonneur Lauren Bradley ('05) and guest carillonneurs Ray Ebert ('60) and senior Kathryn Rohrer will play the Janet Jeffrey Carlile Harris Carillon.
Those attending the service may make monetary contributions to the Chaplain's Emergency Fund, which supports students and staff in financial need. For more information on the service, call 758-5210.
— By Kerry M. King ('85), Office of Communications and External Relations
Recent Posts
June 3, 2020

June 2, 2020

June 2, 2020