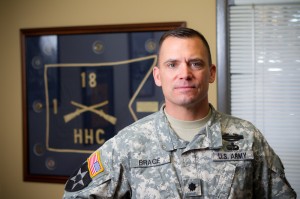 Lieutenant Colonel Keith Brace, chair of the military science department and a 19-year Army veteran who was injured in Iraq, now helps prepare young men and women to be the future leaders of the Army.
What does Veterans' Day mean to you?
Veterans' Day always bring a great sense of pride and gratitude for all those, past and present, who have served in our military to defend and preserve the rights and freedoms of our great country. Since less than 1 percent of our nation's population serves in the military, our veterans are a very special group of men and women. Veterans' Day is a day to recognize anyone and everyone that is a part of that 1 percent.
What do you do?
I prepare all of our Cadets to be future leaders in the Army. This includes everything from physical training, field training, classroom instruction and counseling. I am the primary instructor for the senior Cadets and interact with them the same way an Army Battalion Commander would interact with his Platoon Leaders.
What do you most enjoy about your job?
I love watching our Cadets develop, improve and succeed in our program. They all start with different strengths and weaknesses. Occasionally, they fail but never quit. They learn from their mistakes and get better every time. In the end, they have developed the mental, physical and emotional toughness required of all of our Army leaders and they are ready to serve. The highlight of each year is when I administer the Commissioning Oath to our graduating seniors and send them off as Army Officers.
Can you briefly describe your military service?
I graduated from The Citadel, The Military College of South Carolina, in 1991. I was a Distinguished Military Graduate of the Army ROTC program and was commissioned as an Infantry Second Lieutenant. I started my career at Ft. Benning, Ga., where I graduated from the Infantry Officer Basic Course, Airborne School and Ranger School. I was then assigned to Ft. Bragg as a rifle platoon leader. I was promoted to the rank of Captain and was transferred to Germany where I commanded a Mechanized Infantry Company. Most recently, I served at Ft. Carson, Co., as an Operations Officer in the rank of Major. During this assignment, I was deployed to Baghdad, Iraq, with a Cavalry Squadron. My 15-month deployment was cut short when I was injured by an IED (improvised explosive device) during a combat patrol through the city. I was later assigned to the Wake Forest ROTC program and promoted to Lieutenant Colonel. I have been in the Army over 19 years now and it has been an excellent experience throughout.
How did you end up at Wake Forest?
I applied for an ROTC assignment because I was at a point in my career where I wanted to give back to the program that got my career started. I didn't request a specific school, but I did request something in the southeast so I could be close to family. Just like every good soldier … you go where the Army sends you. And the Army sent me to Wake. We knew very little about Wake Forest and Winston-Salem, but, after three great years here, we feel very fortunate.
Family?
I have been married to my wife, Amy, for 18 years. She is a kindergarten teacher at Calvary Baptist Day School. We have one daughter, Sara (15), and one son, Niko (13). We also have two dogs and a cat … just to keep things interesting.
What do you do when you're not working?
I spend as much time as I can with my family. My career has taken me away from them enough that we appreciate our time together. Fortunately, we all like the outdoors and enjoy hiking in the mountains or swimming at the beach. I am also an avid runner. My wife became a runner last year and we both spent the last weekend in Washington, DC, running the Marine Corps Marathon.