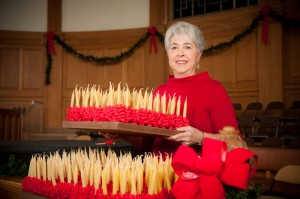 Gayle Hartgrove left the corporate world in 1996 to work for "brother" Ed Christman ('50, JD '53), longtime University Chaplain (now retired), as administrative assistant in the Chaplain's Office. Since then she has been the keeper of one of Wake Forest's most cherished traditions, the annual Christmas Lovefeast and Candlelight Service, scheduled for Dec. 5 this year.
What's your favorite part of the Lovefeast?
I would have to say the lighting of the candles is my favorite part. All of the lights go out in the chapel right before our candle lighters begin row by row lighting the candles. The chapel is in complete silence. It truly is such a beautiful and moving sight to me.
Can you give us some numbers, such as the gallons of coffee, number of buns and number of candles you order each year?
Aramark makes 90 gallons of the Moravian recipe coffee. Mrs. Pumpkin's bakery makes 175 dozen lovefeast buns (yeast buns seasoned with nugmeg, cinnamon and orange flavoring). The Mary Ann Fogle Service League from Home Moravian Church makes 2,200 traditional beeswax candles, wrapped with red ribbon.
What's involved with organizing the Lovefeast?
I actually start in April of each year by ordering the candles. At the end of September, I invite students, faculty and staff to participate as dieners. In October, I line up the concert, flute and handbell choirs, and the Moravian band from Messiah Moravian Church. I also contact APO Fraternity about making the luminaries and placing them on Hearn Plaza the evening of the event. Our carillonneur, Lauren Bradley, and guest carillonneurs participate each year. Then comes the work orders submitted to facilities management to put up the Moravian stars inside and outside Wait Chapel along with the decorating and setting up they help me do on the Friday before and the day of the Lovefeast. I couldn't do any of this without all of their help. The minor details that come into play the week before are too numerous to mention. Thanks to Jay Lawson, technical manager, and his crew also for their technical expertise or this event would not happen.
What's on tap for this year?
Rev. Dr. Gail R. O'Day, dean of the Wake Forest Divinity School, is our speaker this year. We could not do this service without the talent contributed by our Wake Forest concert, flute and handbell choirs, our carillonneurs, and of course, our University organist, Don Armitage. We have a guest harpist, Kerry Anne Conner-Briggs ('87), who has played for us for five years. The divinity school choir is also participating this year.
What do you do when you're not organizing the Lovefeast?
You might say that I am the caretaker of the chapels (Wait and Davis). Another large task in addition to the Lovefeast that I am responsible for is the Pre-School Conference that is sponsored by the Chaplain's Office and Campus Ministry. This conference is part of orientation for incoming freshmen. We have about 150 to 170 freshmen, plus 50 upperclassmen that are the group leaders. I begin planning in February of each year and work on it until August when the students arrive. It is a wonderful experience for freshmen. It gives them the opportunity to meet other new students, the chaplains, campus ministers, and faculty and staff who also participate.
What do you most enjoy about your job?
I enjoy the relationships that I establish with the students. You might say I sometimes become a second mother to them. I lend a listening ear, try to encourage and support them as best I can. I do enjoy cooking meals and entertaining them in my home. I have also directed weddings of several students that have been student assistants in the Chaplain's Office. I also enjoy the circle of family with all of the chaplains and campus ministry staff. I enjoy cooking Christmas breakfast at my home for the chaplains and ministers before we leave for the holiday each year.
What do you do when you're not working?
I love gardening, decorating, flower arrangements, cooking, and watching the old classic movies. Most of all, I enjoy spending time with my two grandsons. Being a grandmother, aka "Gigi," is great!
What's your favorite family Christmas tradition?
My family roasts hot dogs and marshmallows in the fireplace on Christmas Eve.
Family?
I have been a single parent for a number of years. I have a daughter (who lives in Cary), who is married and has two sons, 4-years-old and 8-months-old. My son is single and lives in Kernersville.