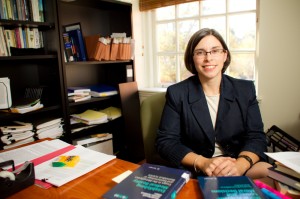 Cloning. Genetic testing. Stem-cell research. Medical experiments. End-of-life decisions. With new breakthroughs in science and medicine often racing ahead of ethical concerns, Wake Forest's new Center for Bioethics, Health and Society is addressing some of the most relevant issues at the heart of biotechnology, medical research and health care.
Ana Smith Iltis has been named the center's first director. She was formerly director of the Ph.D. program in the Center for Health Care Ethics at St. Louis University.
"Wake Forest has tremendous resources to address bioethics," said Iltis, who is also an associate professor of philosophy. "Faculty across the University — in medicine, law, divinity, business, the humanities, social sciences and life sciences — are already addressing many of these issues, and the center will bring all these efforts together and build upon them."
Iltis earned her Ph.D. in philosophy from Rice University. Her research interests include the ethics of research on human subjects and organizational ethics. She is currently senior associate editor of the Journal of Medicine and Philosophy and co-editor of the Annals of Bioethics. She is a former editor in chief of the Journal of Law, Medicine and Ethics.
The Bioethics Center is planning a number of programs during the next year around its inaugural theme, "Biomedical Technology: Private Choices, Public Good." Among the highlights are a symposium on race, culture, genetics and medicine, and lectures by experts in nanotechnology, palliative care and the Tuskegee experiments.
The theme opens the door to study how advances in science and medicine can sometimes put personal and societal interests at odds on everything from medical clinical trials to the access and cost of health care, said Mark Hall, the Fred D. and Elizabeth L. Turnage Professor of Law and Public Health and chair of the center's steering committee.
"Ethical issues relating to biotechnology have captured the public's imagination with looming potential for dramatic therapies and unprecedented enhancements, and with controversies over stem cells and cloning," he said. "Also, biotechnology relates well to several of Wake Forest's prominent areas of research, such as nanotechnology, genetics and regenerative medicine."
Upcoming events include:
Dianne E. Meier, director of the Center to Advance Palliative Care at Mount Sinai School of Medicine, will speak on palliative care on Jan. 27.
George Khushf, humanities director at the Center for Bioethics at the University of South Carolina, will speak on nanotechnology and ethics on Feb. 9 and 10.
A symposium on race, culture, genetics and medicine will be held on March 16. The forum — co-sponsored by the Office of Multicultural Affairs, the Department of Biology, the International Studies office and the Maya Angelou Center for Health Equity at the School of Medicine — will focus on the disparities in health care, based on race and social class.
James H. Jones, one of the leading authorities on the Tuskegee experiments and author of "Bad Blood: The Tuskegee Syphilis Experiment," will speak on campus next November.
The bioethics center was established in 2009 to address ethical, social and policy issues relating to biotechnology, biomedical research, health care and public health across a range of disciplines. In addition to academic and public programs, the center also provides competitive grants to faculty members for research and course development in bioethics. Wake Forest also offers a master's degree in bioethics, drawing on faculty from across the University.
— By Kerry M. King ('85), Office of Communications and External Relations