Main Content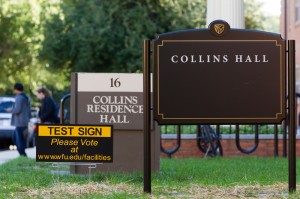 One sign of the changes occurring on campus is that the University is considering changing the campus signs.
A campus signage committee has been studying new signage for the last year. The current signs were installed in late 1989.
"The current signs satisfied the need 20 years ago, but the committee is looking at what the needs are today and how to provide better 'wayfinding' around campus for vehicles and pedestrians," said Jim Coffey, director of landscaping services and a member of the committee.
The committee has identified two possible designs for new signage and would like community input, Coffey said. No timetable or funding has been approved for new signage yet.
Concept A has a gold and black color scheme and iron supports that tie in to the original wrought iron detail on campus buildings.
Concept B has a curved bevel edge, clear contrasting lettering, and solid round anchor posts.
View the signs here and vote for your favorite.
Recent Posts
May 22, 2020

May 20, 2020

May 19, 2020