Main Content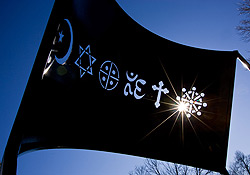 The Chaplain's Office is sponsoring several programs this semester to promote interfaith dialogue and cooperation. Among the highlights are the screening of a new documentary film, "Little Town of Bethlehem," on Thursday night and a forum next month with the Rev. Dr. C. Welton Gaddy, president of the Interfaith Alliance.
"Students, faculty and staff must speak out about the importance of religious pluralism and continue to make interfaith cooperation an active part of campus life," said Chaplain Tim Auman. "I hope these programs will teach people the skills that they need to engage in interfaith dialogue. Interfaith dialogue should not be seen as a threat to someone's own faith tradition."
Events and programs are open to faculty, staff, students and members of the community, unless otherwise noted:
• Little Town of Bethlehem, a true story about three men — a Palestinian Muslim, a Palestinian Christian and an Israeli — working together to end the cycle of violence in their countries, will be shown on Thurs., Oct. 21, at 7 p.m. in Pugh Auditorium.
• Gaddy will speak at a forum on interfaith cooperation on Mon., Nov. 8, at 7 p.m. in Wait Chapel; the forum is open to the public. He will also speak to first-year divinity school students that day. Gaddy is also pastor for preaching and worship at Northminster (Baptist) Church in Monroe, La, in addition to leading the Interfaith Alliance, a national non-partisan grassroots organization.
• On Tues., Nov. 9, Gaddy will speak to divinity school students and area ministers at Knollwood Baptist Church in Winston-Salem and meet with the Wake Forest Interfaith Council and the Wake Forest Religious Life Advisory Council. On Wed., Nov. 10, he will meet with campus ministers and later speak to the Piedmont Interfaith Council and the local community at Temple Emanuel in Greensboro; his speech at Temple Emanuel is open to the public.
• Visits to local mosques, synagogues, churches, and Hindu and Buddhist Temples are being planned so that students can learn about different faiths; also open to faculty and staff. Upcoming visits include: Temple Emanuel Synagogue in Winston-Salem, Sun., Nov. 14. Please call 310-WAKE (9253) if interested in attending.
In addition, Auman, associate chaplain Khalid Griggs, sophomore Mojeeb Nazeri and first-year student Jessica Leuchter have been selected to attend an intensive leadership training event hosted by the White House Office of Faith Based and Neighborhood Partnerships in Washington, D.C., on Oct. 24 – 26.
Nazeri and Leuchter will be among about 100 students from across the country learning how to promote interfaith cooperation and religious diversity on their campuses. Auman and Griggs will be among about 50 University staff members who will participate in similar training.
Next semester, the Chaplain's Office and the sustainability office are planning an interfaith service project for students during spring break in March; details are still being finalized.
Last month, the Chaplain's Office sponsored a panel discussion with several faculty members on the controversy surrounding a decision to build an Islamic cultural center in New York City close to Ground Zero and the plans, eventually cancelled, by a Florida minister to burn copies of the Koran.
— By Kerry M. King ('85)
Office of Communications and External Relations
Recent Posts
July 2, 2020

July 2, 2020

June 30, 2020