Main Content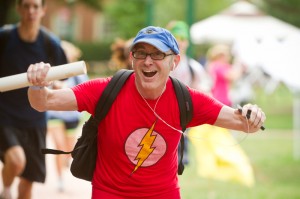 More than 100 faculty and staff members participated in this year's "Hit the Bricks" run for cancer research.
Eleven faculty and staff teams joined students in the all-day relay race around Hearn Plaza on Sept. 30 to raise both money and awareness for the fight against cancer.
The Information Systems team was the winning faculty/staff team with 331 laps around the Quad, followed by the Z. Smith Reynolds Library team (326 laps) and The Crusaders/Student Life team (253 laps).
The annual "Hit the Bricks" event, first held in 2002, is just one of the student-sponsored events held throughout the year that raises money for the Brian Piccolo Cancer Fund. Since the fund was first started 30 years ago, students have raised more than $1 million for cancer research at the Comprehensive Cancer Center at Wake Forest University Baptist Medical Center.
The fund drive is named in memory of Wake Forest legend Brian Piccolo, who died of cancer while he was a member of the Chicago Bears football team.
Recent Posts
January 16, 2021

January 14, 2021

January 12, 2021