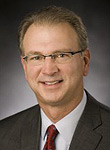 B. Hofler Milam has been named senior vice president for finance and administration and chief financial officer at Wake Forest. Milam is currently vice president for finance and treasurer at Duke University. He is expected to begin work at Wake Forest in December.
Prior to joining Duke University in 2003, he held leadership positions at the Wake Forest School of Medicine and at QualChoice of North Carolina, a health maintenance organization that was affiliated with Wake Forest University Baptist Medical Center and based in Winston-Salem. He received a bachelor of science degree in accounting in 1976 and his MBA in 1991, both from Wake Forest.
"I am excited about returning to my alma mater and being part of the Wake Forest community," he said. "President Hatch's vision for the education of the whole person is especially compelling, and I look forward to joining his leadership team."
At Duke University, Milam has overseen an array of accounting and financial functions, including administrative systems, budgeting, procurement, payroll, payables, the controller's office, financial reporting, the bursar's office, treasury and cash management, as well as university stores and real estate.
Milam has extensive ties to Wake Forest. His wife, Kathryn, received her bachelor of science degree from Salem College, master of arts degree in liberal studies from Wake Forest in 1995 and masters of fine arts degree from Bennington College. Their two daughters, Sarah Milam Streit ('00, MSA '01) and Margaret Milam ('04), are Wake Forest graduates, as is Sarah's husband, Nick Streit ('04). Milam and his wife also have one son, Robert. Robert and his wife, Debra, graduated from Furman University. Milam's father, Bruce, graduated from Wake Forest in 1951, and met his wife, Ann, when she attended summer school at Wake Forest.
In addition to overseeing the University's financial operations, Milam will also assume responsibility for several administrative operations, including human resources, facilities and campus services, and the University's real estate and business operations (including University Stores and hospitality services).
Those areas presently fall under Vice President for Administration Matthew S. Cullinan, who is taking a new position as senior adviser to President Nathan O. Hatch. Cullinan will be responsible for special initiatives growing out of the University's strategic plan and the upcoming capital campaign.
"Hof Milam brings to Wake Forest exceptional skills and experience, as well as a deep understanding of and appreciation for higher education and for this university," President Nathan O. Hatch said. "His commitment to transparency and collaboration have been well demonstrated in his work at Duke University and are important Wake Forest values as well. He has demonstrated great success in working through complex financial and operational issues and will bring terrific leadership to our entire finance and administrative services divisions. I could not be more pleased to welcome Hof back to Wake Forest, and I look forward to him joining our administrative team."
— By Kerry M. King ('85)
Office of Communications and External Relations