Main Content
Connie Green, administrative coordinator in the English department, does a lot of "juggling," which is why she was named Employee of the Year (non-exempt) last fall. She has worked at Wake Forest for 19 years.
What do you do?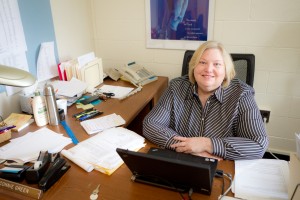 I'd like to think I'm a problem solver. I try to take care of issues for our faculty members so they can concentrate on spending time on teaching, advising and research. I attempt to anticipate the needs of our faculty and students, manage and implement new procedures to help support both groups, work closely to advise the English department administrators, advisors and University administrators of the changing needs of students and faculty, and act as a liaison between students and faculty in an effort to relieve faculty demands and support resolution of student problems. I do a lot of juggling!
What do you most enjoy about your job?
I enjoy working with the people of Wake Forest. Our faculty members are sharp-witted, fun and very interesting. All of them are great people, and I feel very close to them. I have a wonderful co-worker, Peggy Barrett, who is like a sister to me. Peggy and I have great relationships with other academic staff members and administrators. We love our students—from those we give informal advice to those who work with us in the English office.
How did you end up at Wake Forest?
My husband, Bill, received his MBA from the Babcock School. I fell in love with the campus during his time here. I started working part-time in English as an assistant to Dee Perry.
Family?
Bill and I have two great sons, Jake and Michael. Bill is an IT professional and is currently involved in fundraising for Christian missions. Jake graduated from App State and is now a police officer, and Michael will graduate in December from N.C. State, after which he plans to work in a recreation program.
What do you do when you're not working?
Bill and I love to travel, but have been unable to do much in recent years because we are primary caregivers for my elderly mom. I am very much an animal lover and take good care of my two dogs, Maggie and Dakota, and my cat, Moose. I love the great outdoors and observing wildlife. My favorite trip was to Yellowstone National Park because of the unusual natural beauty and the abundance of wildlife.
Words of praise:
"Connie supports more than 40 faculty members and assists the department chair and seven program directors and coordinators. Her presence is crucial to our department's morale because of her generous and understanding nature, her quick wit, her work ethic, and her infectious and humane sense of humor. She acts as wise counselor, resolving conflict, building good working relationships, to keep our attention on what is important — the educational mission of the University."
— Anne Boyle, Professor of English
To recommend a colleague for a Featured Employee spotlight, send a brief paragraph (Words of praise) to kingkm@nullwfu.edu
Recent Posts
May 22, 2020

May 20, 2020

May 19, 2020