Main Content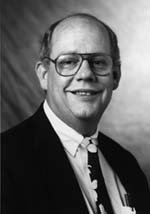 Allan Louden, an associate professor of communication at Wake Forest University, was presented the National Debate Tournament's George Ziegelmueller Award for his work with collegiate debate.
The award is presented to a faculty member who has earned distinction in the communication profession while coaching debate teams to competitive success at the National Debate Tournament.
Louden, Wake Forest's director of debate since 1977, was recognized for his past work as the chair of the National Debate Tournament Committee, president of the American Forensics Association, chair of the Committee on International Discussion and Debate, and his editorial work with the journal, Argumentation and Debate.
Wake Forest's performance at the National Debate Tournament in the last 10 years includes a national championship in 1997; three final four teams; four final eight teams; six top 16 teams; and 11 other teams qualifying for elimination rounds. During the last decade, Wake Forest's debate squad was ranked among the nation's top 10 programs each year.
The award is named in honor of George Ziegelmueller, a professor and debate coach at Wayne State University who has been involved in collegiate debate for more than 30 years.
Louden's award was presented during a banquet as part of the 54th National Debate Tournament hosted by the University of Missouri in Kansas City.
Recent Posts
May 22, 2020

May 20, 2020

May 19, 2020