Main Content
Wake Forest University's Office of Career Services has promoted Carolyn Couch, Patrick Sullivan and Allison Corkey.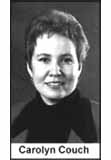 Couch was named the associate director of career services. She was previously the assistant director, a position she has held since joining Wake Forest in 1997. Before coming to Wake Forest, Couch was the assistant director of the career development office at East Tennessee State University and the development coordinator for Converse College's career services office. Her career includes working as a corporate space planner and a project manager. She is a national certified career counselor and a national certified counselor. Couch has a bachelor's degree from Meredith College and a master's in student development/counseling from Appalachian State University.
Sullivan was named the assistant director for technology and experiential education. He began working at Wake Forest as the director of internships and experiential education in 1997. Sullivan previously worked for U.S. Rep. Richard Burr as a legislative aide and internship coordinator. He also served as the assistant finance director for Burr's congressional campaign in 1994 and 1995. Sullivan has a bachelor's degree in politics from Wake Forest.
Corkey was named the assistant director for career development. She joined Wake Forest in 1998 as a career counselor. Corkey has a bachelor's degree in political science from the University of North Carolina at Chapel Hill and a master's degree in counselor education from North Carolina State University. While at NCSU, Corkey was the workshop coordinator for the career center and an advising assistant for the College of Management. She previously worked as a corporate paralegal. Corkey is a national certified counselor.
Recent Posts
May 22, 2020

May 20, 2020

May 19, 2020