Main Content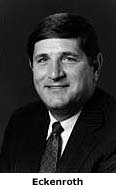 Wake Forest University has appointed Gary Eckenroth to the newly created position of university compliance officer.
Eckenroth heads the new University Compliance Office for Wake Forest's Reynolda and Bowman Gray campuses.
Eckenroth is the former vice president for human resources and administration at RJR Nabisco-Planters Lifesavers Companies, formerly in Winston-Salem. He held that position from 1985-1998. Most recently, he was a consultant for the Winston-Salem office of Williams, Roberts, Young Inc.
A graduate of Shippensburg University, Eckenroth has attended management programs at the Darden Graduate School at the University of Virginia and the University of Chicago Graduate Business School.
He is a former member of the College Board of Visitors at Wake Forest.
Recent Posts
May 22, 2020

May 20, 2020

May 19, 2020