Main Content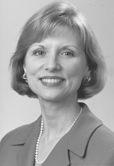 Sandra Combs Boyette, Wake Forest University's vice president for public affairs since 1988, has been named to the new position of vice president for university advancement. Wake Forest President Thomas K. Hearn Jr. announced the appointment today at a 2 p.m. campus gathering of Wake Forest faculty, staff and supporters.
In her new role, Boyette will supervise Wake Forest's fundraising and public relations offices. The Winston-Salem native joined Wake Forest's development office as a staff writer in 1981 during the university's Sesquicentennial Campaign. She served as director of foundation relations for five years and as assistant director of development before being named director of public information in 1987. Boyette became Wake Forest's first female vice president in 1988.
Since the retirement of G. William Joyner Jr. in 1996, Boyette has served as interim vice president for university relations. Hearn said the formerly separate offices for fundraising and public relations will be strengthened by the realignment with one vice president.
"From managing the presidential debate (in 1988 at Wake Forest) to publicizing the university nationwide to leading our fundraising efforts during the last year, Sandra Boyette has been a highly effective advocate for Wake Forest," Hearn said. "She brings to this new position a love of Wake Forest, an understanding of the institution's traditions and values, and an appreciation for the loyalty and generosity of alumni."
An alumna of Wake Forest's Babcock Graduate School of Management, Boyette, 46, attended Meredith College and earned her undergraduate degree from the University of North Carolina at Charlotte. She also has a master's degree from Converse College. She is married to Dr. Gray Thomas Boyette, a Winston-Salem internist.
Wake Forest completed a $175 million capital campaign in 1995. Today, 45 percent of the universityís alumni contribute to the school.
Recent Posts
June 3, 2020

June 2, 2020

June 2, 2020