This is a guest post from Human Resources:
Members of the campus community honored service milestones of more than 200 Wake Forest staff members who celebrated approximately 2,400 combined years of service. These individuals were recognized at the annual Staff Rewards & Recognition Luncheon Oct. 24 at the Sutton Center. Faculty and staff joined a campus-wide reception in the Green Room of Reynolda Hall immediately following the luncheon.
Staff members who have achieved 30 or more years of service are:
30 years: Tammie Kiser (Mail Services), Gary Samuels (Facilities & Campus Services)
35 years: Martha Allman (Undergraduate Admissions), Debbie Deheck (Graduate School), Teresa Hill (Psychology)
40 years: Leigh Lovelace (Financial Aid)
Additionally, Hubert Samuels (Mail Services), who passed away in July, was inducted into the 30-Year Club in memoriam.
Sergeant James Gravely with the University Police and Sarah Wojcik-Gross, the Assistant Director of Client Services in Information Systems, also were recognized as Employees of the Year. They were nominated by faculty and staff for their contributions in the areas of innovation, integrity, accountability, inclusion, and Pro Humanitate.
James Gravely was honored for his leadership in the Police Department. The nomination reads: James is a very trustworthy and honest individual, who always goes the extra mile to make sure his Security team has what they need to be happy and successful at work. He does a great job of finding ways for the Security team he supervises, and the entire University Police department, to better protect the campus, students, and visitors. He makes everyone feel welcome, and continuously steps in to look after others. One of the many examples is how he shuttles individuals to and from Commencement ceremonies if they need assistance.
Sarah Wojcik-Gross was honored for her commitment to Information Systems and the Staff Advisory Council, in which she serves as President. The nomination reads: Sarah continually finds ways to make staff feel appreciated, keeping them motivated by highlighting their strengths and recognizing the ways they go above and beyond for Wake Forest. Sarah manages the campus Help Desk and works hard to make sure students know someone "has their back" when they need support. She truly makes all who come in contact with her feel welcome, embodying the "teacher" spirit of inclusion. She always puts the students' needs first, and sets a good example of how we can all do our jobs happily and gratefully.
Congratulations to James Gravely, Sarah Wojcik-Gross, and all staff members celebrating milestones.
See a list of faculty and staff milestones in January 2016: Read more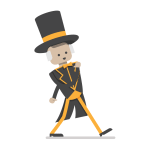 Load More