Main Content
Dana J. Johnson, dean of the Wayne Calloway School of Business and Accountancy since 1992, has accepted a position to lead the University of Delaware's College of Business and Economics.
Wake Forest Provost David G. Brown said Johnson has been an effective leader whose contributions will be missed throughout the university.
"To Wake Forest, Dana Johnson has brought energy, in-depth knowledge of business accreditation, an enthusiasm for fund raising, strong convictions regarding the importance of computer literacy for future business leaders and a wonderful capacity to enhance the feeling of community among students and faculty," Brown said.
During Johnson's four-year deanship, the undergraduate business school was named for Wayne Calloway, a Wake Forest alumnus and chairman of PepsiCo's Board of Directors, and began a five-year program for undergraduates to earn a master's degree in accountancy. InU.S. News & World Report's most recent rankings, the Calloway School was ranked the 25th best undergraduate business program in the country.
As the business program developed, Johnson maintained a "focus upon the student and the student's needs while insisting upon the highest academic standards," Brown said. Also, Johnson preserved "a sense of family and community within the faculty," he said.
Before joining Wake Forest, Johnson was a visiting professor at the University of Virginia's Colgate Darden Graduate School of Business. She also held faculty positions at Kent State University and Virginia Polytechnic Institute and State University.
At Kent State, Johnson earned a bachelor's and master's degree in economics and a doctorate degree in finance with an economics minor.
In addition to her professional accomplishments, Johnson is an active volunteer. She belongs to Rotary International and serves on the boards of three organizations: the Winston-Salem Center for Business and Technology, the North Carolina Easter Seal Society, and Junior Achievement.
Brown said an acting dean for the Calloway School will be named within the next few weeks. The acting dean will take office on July 15. A search will begin this summer with the expectation that the new dean will be in place prior to the 1997-98 academic year.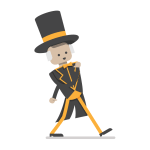 Load More