Main Content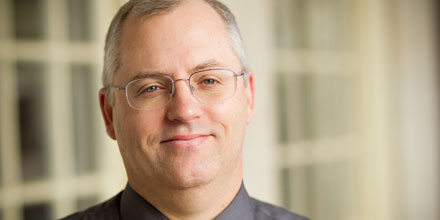 Brad Jones has been reappointed to a second term as Dean of the Graduate Programs in the Arts & Sciences. Jones, a professor of chemistry at Wake Forest since 1989, is also an alumnus, completing his BS degree in chemistry in 1984.
"Dean Jones has proved both a dedicated steward of our wealth of Ph.D. and masters programs on the Reynolda campus, as well as a creative leader during a complex time for graduate education nationally," said Provost Rogan Kersh. "Launching dynamic new programs, enhancing the School's budget, and securing the striking new Brookstown space in downtown Winston-Salem: all these add up to a time of real innovation across Dean Jones's tenure to date."
"Over the past few years the Graduate School has taken some bold steps that are just beginning to pay off.  As we move forward, I hope to establish a sense of place for a school that embraces disparate programs.  I also aim to create a distinctive edge for our students by communicating their magnificent scholarship via digital storytelling techniques.  This is an exciting time to be in the Graduate School."
Under the joint supervision of Jones and Dwayne Godwin, Dean of the Graduate Program in the Biomedical Sciences, Wake Forest's Graduate School now features 30 masters and Ph.D. disciplinary or interdisciplinary programs, and sponsors 12 programs jointly with the schools of Medicine (MD/PhD, MD/MS, MD/MA & MMS/PhD), Business (MBA/PhD), Divinity (MA/MDiv), and College (BS/BA & MA). More than 800 students are enrolled in the graduate school.
In 2015, several Arts & Sciences graduate programs moved all or part of their teaching and research/creative activities to restored mill space at 200 Brookstown Avenue; a number of graduate school administrators moved to Brookstown as well.
Read more about the Graduate School @Brookstown in the news story, "New moves transcend boundaries."
Recent Posts
June 3, 2020

June 2, 2020

June 2, 2020